We at Jolie Images are photographers that do not differentiate between same sex weddings and opposite sex weddings…
Love is Love,

– and  we have been photographing commitment ceremonies for the gay and lesbian communities since we first opened our studio doors years ago.
To put it lightly, we are THRILLED that Illinois is now going to be one of the wonderful states to recognize civil unions and same-sex marriages!  (It's about time ;-). June 1st, 2011 is the date the proposal goes into full effect and already we are being contacted by couples that are planning their civil union ceremony and reception. This is a big step in the right direction. Today the first same sex couples were allowed to take their legal vows and recieve their Civil Union license. Many Chicago area lesbian and gay couples are now planning not only their civil union ceremonies but their receptions as well. Our photographers are not only comfortable with these types of events but eager to photograph same sex couples on their special day.
We are also getting calls from our gay and lesbian customers that had us photograph their commitment ceremonies before this landmark legislation was passed- they are now re-taking their vows to be legally joined so that they may have the same rights as their married counterparts.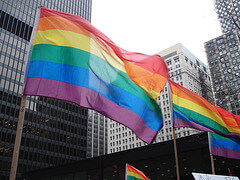 We are the Chicago area's most affordable, top rated, award winning photographers and we would be honored to photograph your civil union. Give us a call at: 1-866-922-3961 or email us at info@jolieimages.com
To celebrate this victoriou legislation , throughout the entire month of June, we will be giving a $50 discount on all 10 hour commitment ceremony/civil union packages that start at $595.  After that celebratory discount, we will no longer be offering that because as we said, we do not differentiate between same sex weddings and commitment ceremonies. Please mention promo code: 601FINALLY when booking your civil union photography package.  If you are interested in viewing some gay and/or lesbian wedding photo galleries and or sample photos, just let us know and we can give you the gallery login information.
More about our photography:
We shoot a beautiful blend of traditional, photojournalistic, contemporary and artistic styles. We are the area's top rated studio and have tons of reviews and testimonials that we are proud of. We are licenced, insured and always have backup photographers/equipment "just in case". Engagement portraits, either on-location and in-studio are also available.  Save the date cards are a great way to celebrate both your engagement and the June 1st recognition of civil unions for same sex couples.
Instantly check if your date is still available on our website.