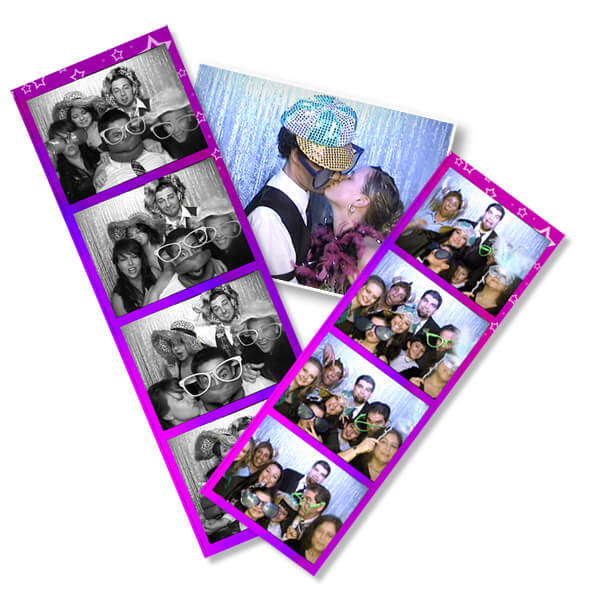 Just In! New Affordable Table Top and Open Air PHOTO BOOTHS!  Rental from $545
Photo booths add so much fun to your wedding! Our Photo booth packages offer unlimited hours and prints for a super affordable price.
If you will be holding your wedding in the Chicago area, consider renting a photo booth for your reception. Our brand new state of the art photo booths are super impressive. We have new open air photo booths that are small, take up virtually no space and easy to transport. Therefore we can offer Chicago area brides and grooms an inexpensive and affordable way to have photo booths at their wedding.
Each photo booth package  comes with:
Unlimited photo /photo strips taken and printed throughout the night!
The ability for your guests to choose on the spot between color, black and white, sepia or painted effect photo strips
The ability for you to add your name and event date at the bottom of every photo strip
An easy to use touch screen interface on each photo booth.
High resolution cameras
The ability to fit up to 125 people in the photo booth shots!  (open air models only)
High quality lighting to ensure that every image looks great!
The unique option to add a video message from guests *when thumbdrive is added
Photo booth scrapbooks and thumb drives of all hi-res images are available as is video messages from all your guests!
The above Open Air Table Top Photo Booth can fit up to 125 people in every high resolution shot. Your reception room and dance floor makes for a fun and unique backdrop that captures the energy of  your wedding day in each shot. Many of our bride and grooms prefer this to the usual curtain backdrop that traditional photo booths use. If you prefer the more traditional curtain backdrop, we also have affordable traditional photobooths as well!
Above you will see our open air stand alone photo booth.  This photo booth stands 7 feet high yet takes up almost no space with it's small footprint yet fits up to 125 people in the shot with your wedding reception room as the backdrop.  It's easy to use touch screen interface will be loved by all your wedding guests. It ( as all of our photo booths do) immediately prints out unlimited photo strips after the photos are taken. Another great photobooth that will fit into any reception room. Your reception room and dance floor makes for a fun and unique backdrop that captures the energy of  your wedding day in each shot.
Our Traditional Photobooth is traditional in the fact that it is a closed off area that can comfortably fit up to 10-12 people (2 sizes available) and take the photos against curtain backdrop.  However our state of the art tradition photobooth has a touch screen interface, a high resolution camera and optional props (hats, boas etc)  at no additional charge for a limited time.
To see a complete list of what each booth includes and the affordable prices, please click here.
"We are so glad that we rented the Photo Booth for our wedding! Our guests had such a fun time and used it all night. We  just got our images and video messages  that the photo booth recorded and we thoroughly enjoyed going through it and seeing  our guests having so much fun! It's like being at our own wedding all over again! " – Ashley & Mike  4-28-12
Chicago Photo Booth Rental – 847.850.7052