Chicago Wedding Photographers
---
If you are a bride or a groom that is getting married in Chicago or the surround suburbs, then you've came to the right place for your perfect wedding photography package! Jolie Images Photographers of Chicago Offers Award Winning Wedding Photography For Only $595.00.
View all of our photography and video prices here.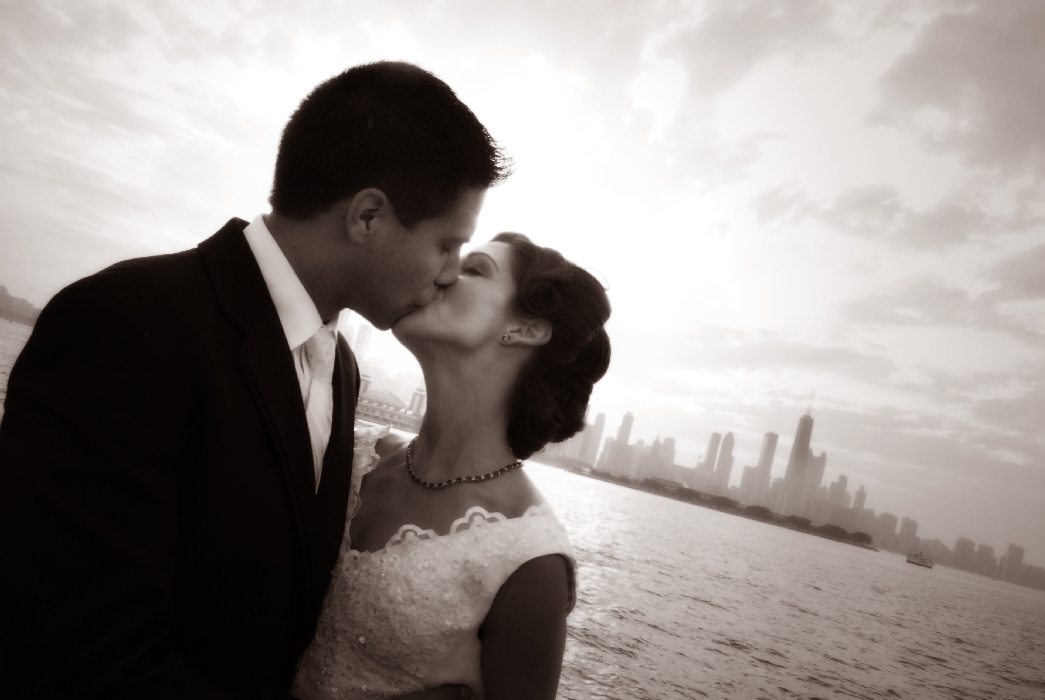 Jolie Images- A Reputable, Award Winning Wedding Photography
Jolie Images is Chicago's top-rated and trusted wedding photography studio. We do everything from boudoir photo sessions, to engagement portraits (on and off location shoots), to bridal portraiture to of course the ceremony and reception photography.  We at Jolie Images started off years ago as a professional photography  printing lab serving the Chicago land area. As we printed for these photographers, we got to know them personally as well as their  individual photographic styles. We then chose the very best of them to photograph for us. We are proud to have the most talented, the most creative and the most friendly wedding photographers in all of Chicago. Read more….
Service Areas- Chicago and Beyond
Jolie Images is located in Wheeling, Illinois but we service the entire Chicago area and its surrounding suburbs including parts of Indiana and Wisconsin.  Jolie Images changed the Chicago wedding photography industry by offering gorgeous- yet inexpensive wedding photography.  We have shot weddings and other events in almost every Chicago area venue and reception halls so our photographers are familiar and comfortable photographing weddings wherever yours may be.
Some great places to get wedding photographs taken in Chicago.
Chicago is a beautiful, scenic city and makes for a gorgeous photographic wedding backdrop but often brides and grooms don't realize all of the options they have for both ceremony and reception locations and photographs. Chicago offers our photographers (and of course our brides and grooms) a large range of photographic props and backgrounds. From vintage looking trolley cars to majestic skyscrapers and buildings, our photographers know these things better than anyone else and  have compiled this helpful and descriptive directory of great locations for all of you Chicago brides and grooms. You can see several of these Chicago spots below next to the description or see or Chicago Wedding Photography gallery which is strictly photographs taken in the city limits.
*If your wedding will take place outside of the city, we have other places that we can recommend to you but this list if for weddings that will take place in the city of Chicago.
The Field Museum: 1400 South Lake Shore Drive Chicago, IL
The  steps and stairs and giant pillars/columns make for grand and timeless wedding photos. The field museum is right next door to the Shedd Aquarium too… so it's like a 2 photographic Chicago spots in one! :) Together they are called The Museum Campus Area. The 2 spots are  also very close (walking…2 blocks) from Buckingham Fountain…where there is also a beautiful rose garden.

A bride and groom at The Field Museum, Chicago, IL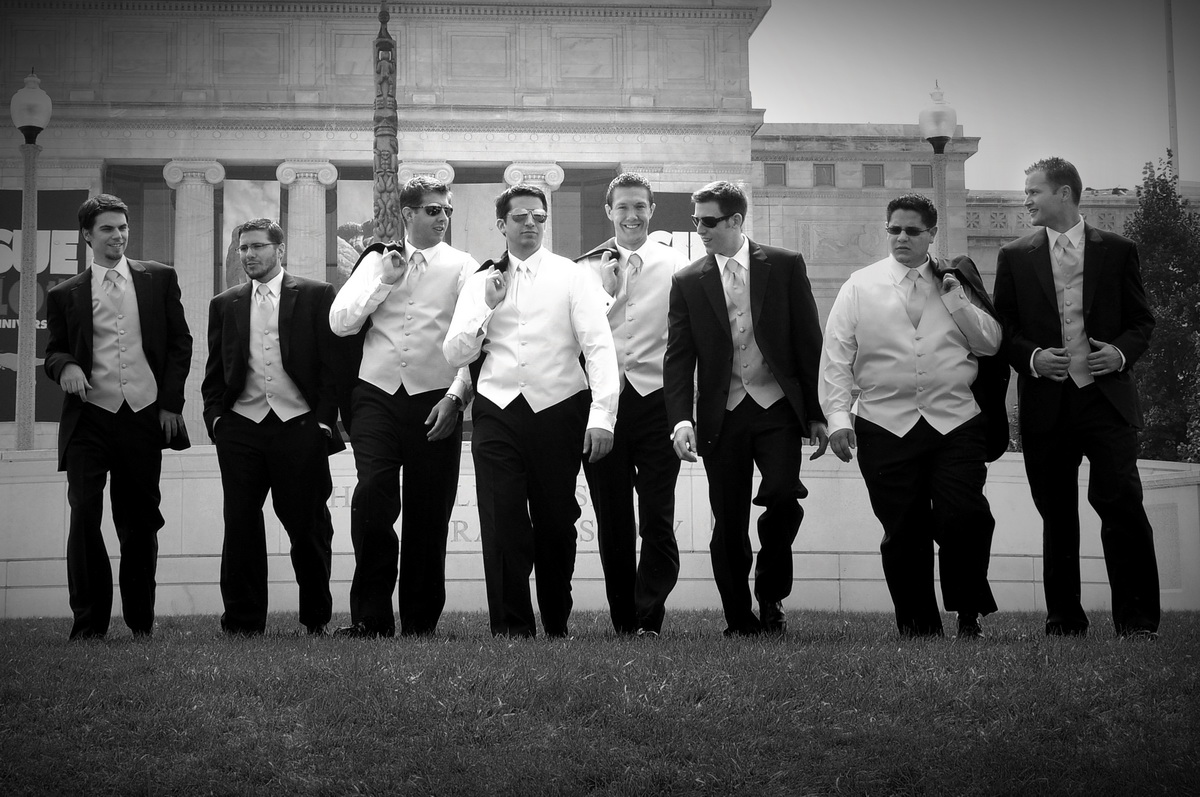 Groomsmen  in front of the field museum Chicago, IL
Buckingham Fountain: downtown Chicago
Buckingham Fountain is a majestic and historic fountain that makes for awesome wedding photographs. The fountain also has a beautiful roise garden nearby.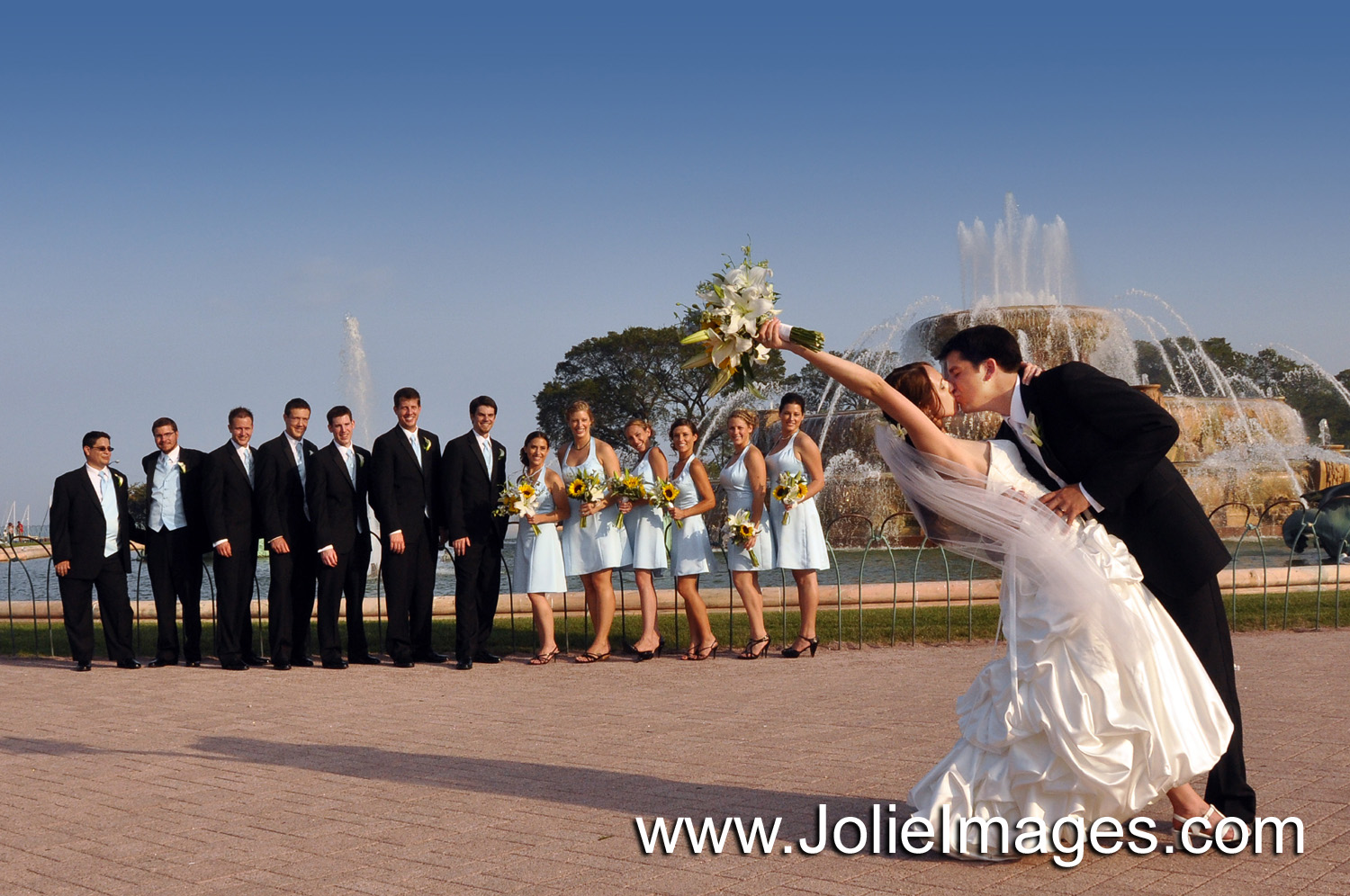 A bridal party at Buckingham Fountain, Chicago, IL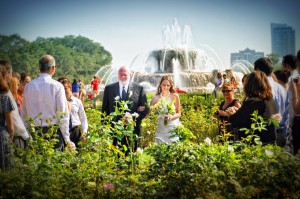 A wedding ceremony at the Buckingham Fountain Rose Garden, Chicago, IL
Millenium Park: 201 East Randolph Street, Chicago, IL (in the heart of the downtown area) There is so many wonderful places in Millenium Park to get wedding photos, but none make for better ones than our famous "Bean" sculpture (actually called Cloud Gate) which mirrors the skyline and makes for very contemporary and artistic wedding photos.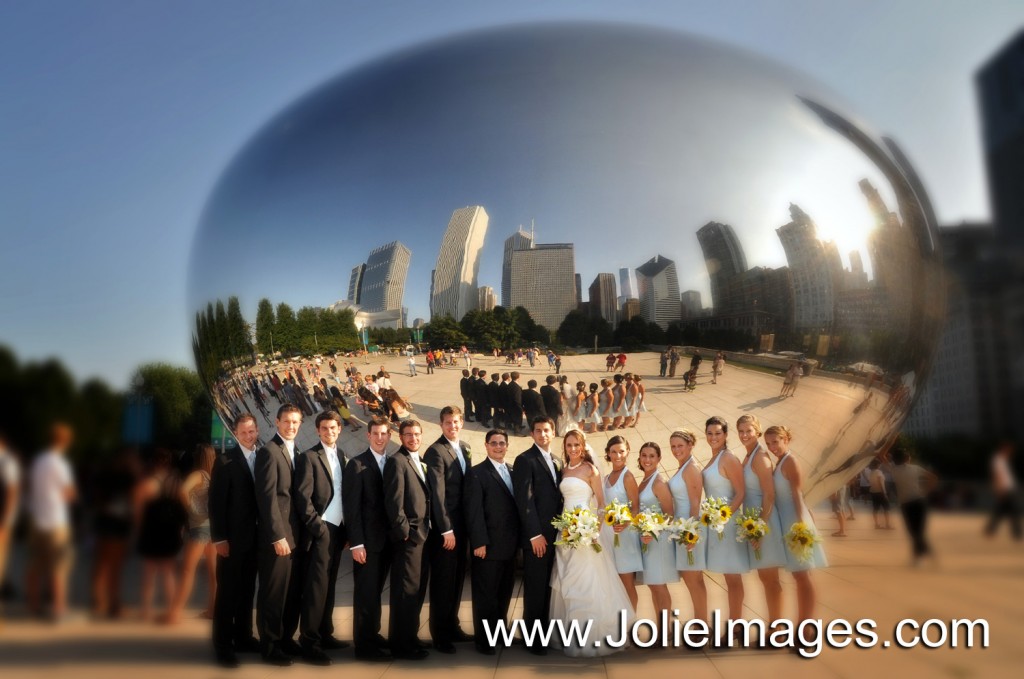 A bridal party at Millenium Park, Chicago, IL
There are also many other cool reasons to go there for your wedding photos including the Pritzker Pavillion.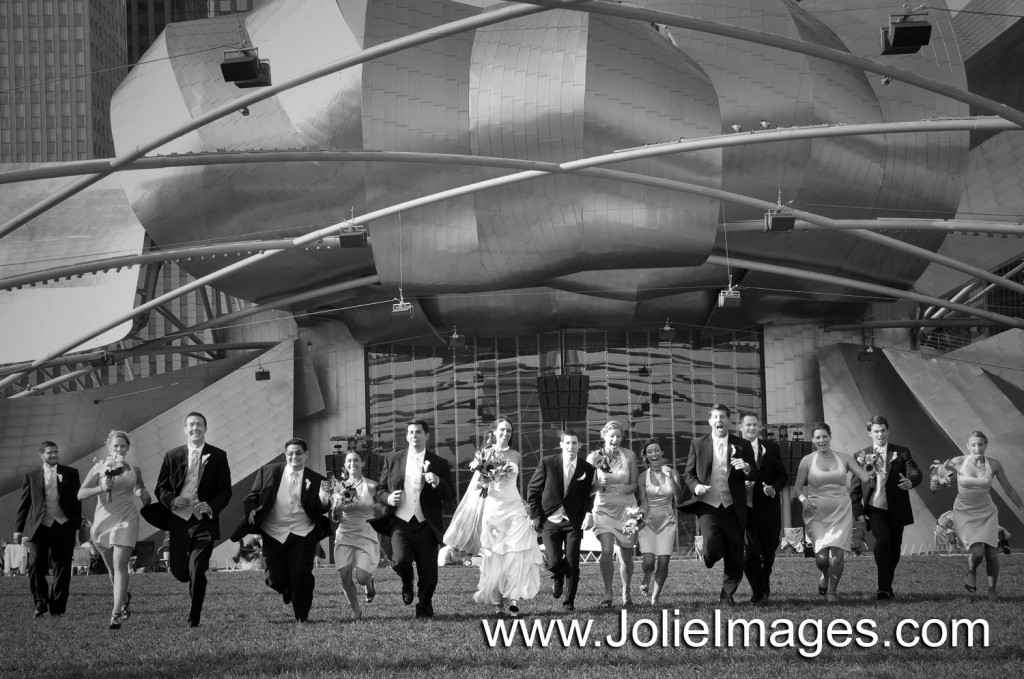 A bridal party at Pritzker Pavillion, Chicago, IL
Millenium Park also features the Lurie Garden which deserves its own listing as well as Millenium Park's BP Bridge.
Lurie Garden: This five acre urban sanctuary is located inside Chicago's Millenium Park.

A bit of history for non-Chicagoans:

The city of Chicago has a motto that goes" Urbs in Horto" which translates to City in a Garden. This refers to the transformation that Chicago went through- from a flat and marshy place to a strong and powerful (and of course beautiful) city. Years ago, brides and grooms weren't able to get grassy and flowery photos if their wedding was in Chicago- buildings and skyscrapers and the flowers in front of them were the most you could hope to get. Today, Chicago has beautiful parks and conservatories so brides and grooms are sure to get wedding photos in natural settings.
BP Bridge: In Millenium Park has an awesome bridge and architectual elements that make for amazing and unusual wedding photographs. Great for bridal party shots!A bridal party BP Bridge, Chicago, IL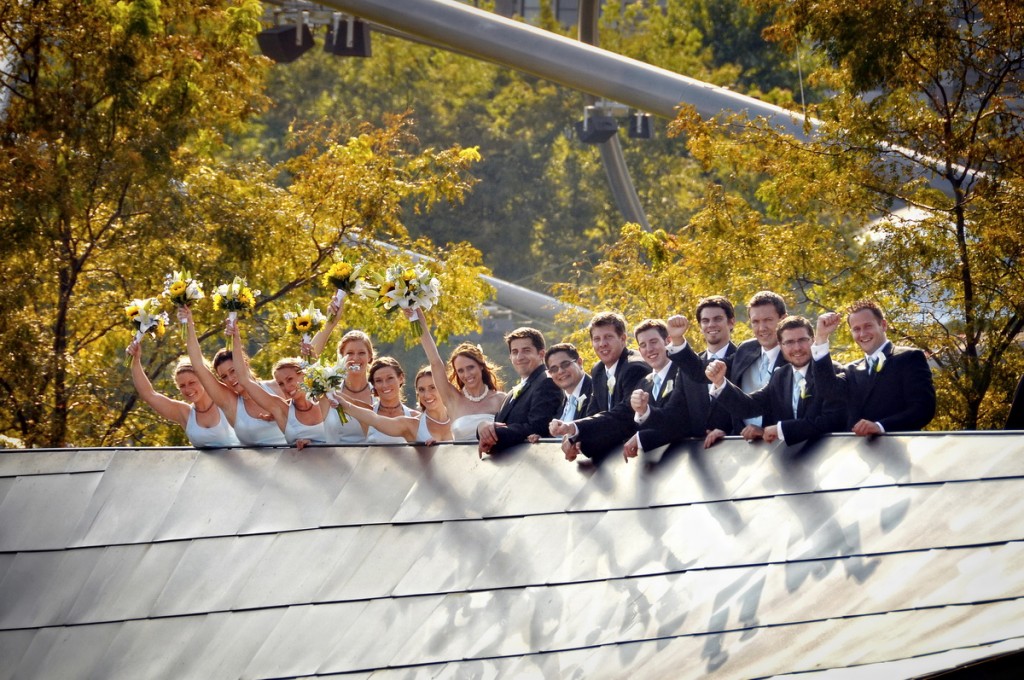 Garfield Conservatory: 300 N Central Park
Having a winter wedding in Chicago? The Garfield Conservatory is AWESOME for beautiful wedding photos that include foliage and plants because it is indoors. We often go there for our Chicago weddings if the weather is rainy or too cold to shoot outdoors.  They also do have beautiful outdoor gardens for our brides and grooms that get lucky with good Chicago weather on their wedding day. If you wish to get your wedding photos taken here, call ahead as a permit is necessary.
Lincoln Park Zoo: If you are getting married near the Lincoln Park neighborhood, the Lincoln Park Zoo in Chicago has a very nice photogenic garden and a greenhouse as well. We have 3 suggestions of spots within the zoo to get your photos taken at: The Lincoln Park Conservatory, The Gardens and then of course the zoo itself. Just South of the zoo is the South Pond. Running along the East side of all of it is the South Lagoon. We suggest that if you are considering this location for your wedding photographs that you take a trip up there to explore the diverse landscape and different areas in Lincoln Park as there is so much! From trees tunneled pathways, to beautiful ponds and lagoons, to lush gardens.
If you wish to get your wedding photos taken here, call ahead as a permit is necessary. Nearby the Lincoln Park Zoo is also the Peggy Notebaert Nature Museum.
Peggy Notebaert Nature Museum: 2430 N Cannon Dr. Chicago, IL
The Peggy Notebaert Nature Museum is a great Chicago location for wedding photographs. Even if you don't go into the museum, the outdoor grounds are BEAUTIFUL (and free).
The Chicago Skyline: No other location symbolizes Chicago better other than our famous skyline. There are a few locations to get beautiful Chicago skyline wedding photos. Our photographers especially like taking our brides and grooms to the grassy area in back of the Adler Planetarium ( 1300 South Lake Shore Drive, Chicago, IL) which boasts a gorgeous South Side view of the city. The grass overlooks the lake and you can have stunning photographs that you will be sure to cherish forever. On the other side of the Planetarium is a beautiful path that makes for great shots as well. From the North side, North Avenue Beach is our choice location. You can also get some great beach and skyline pictures at Oak Street Beach.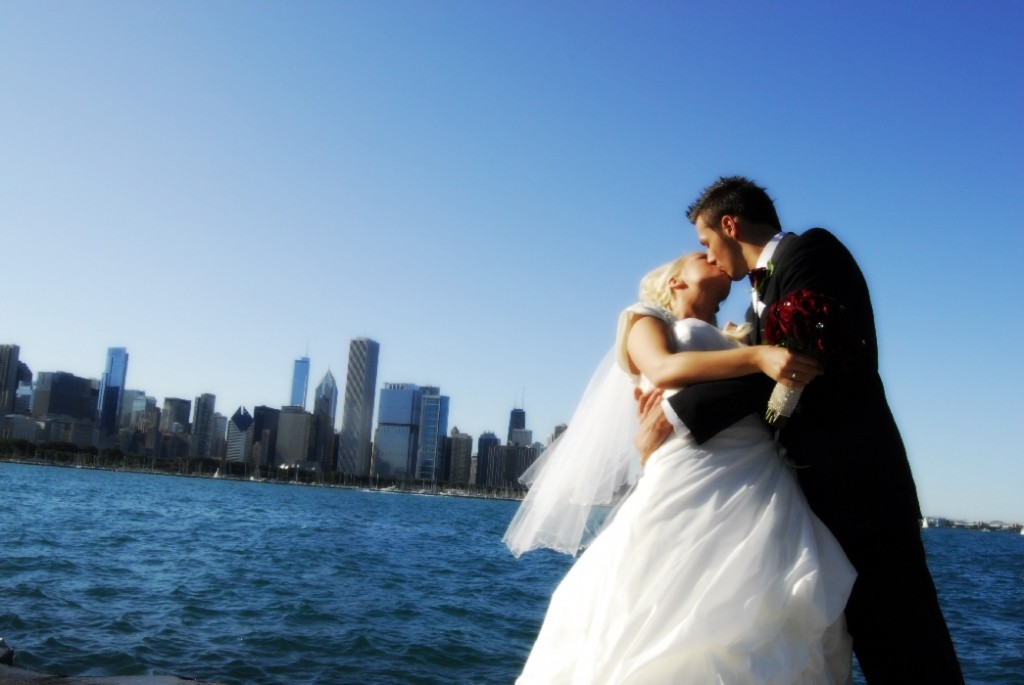 A Chicago Skyline Wedding Photograph taken from behind the Adler Planetarium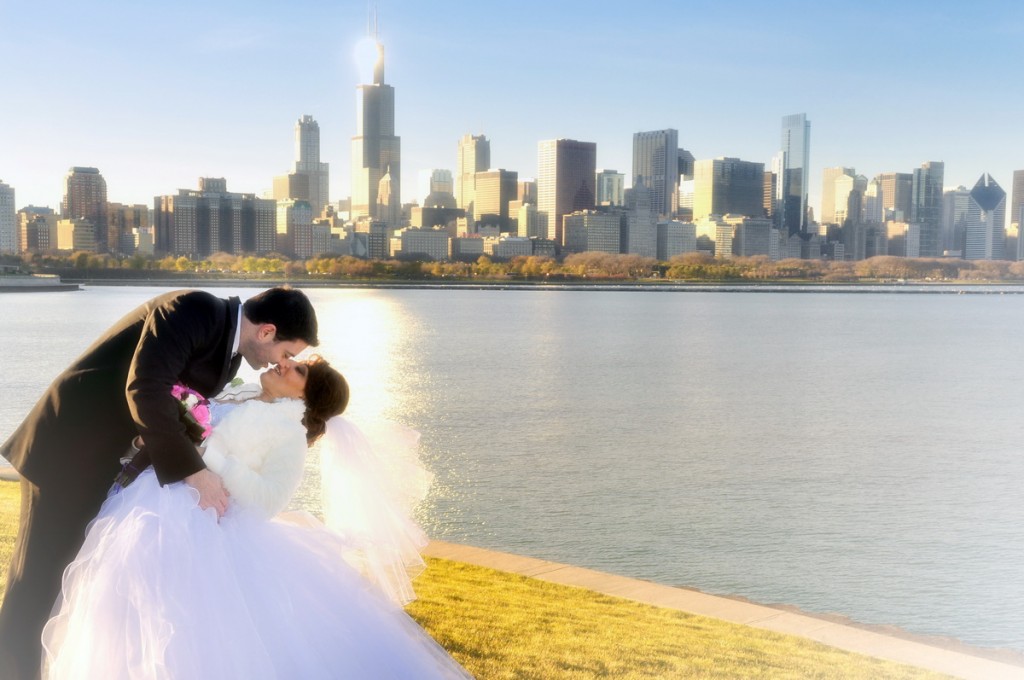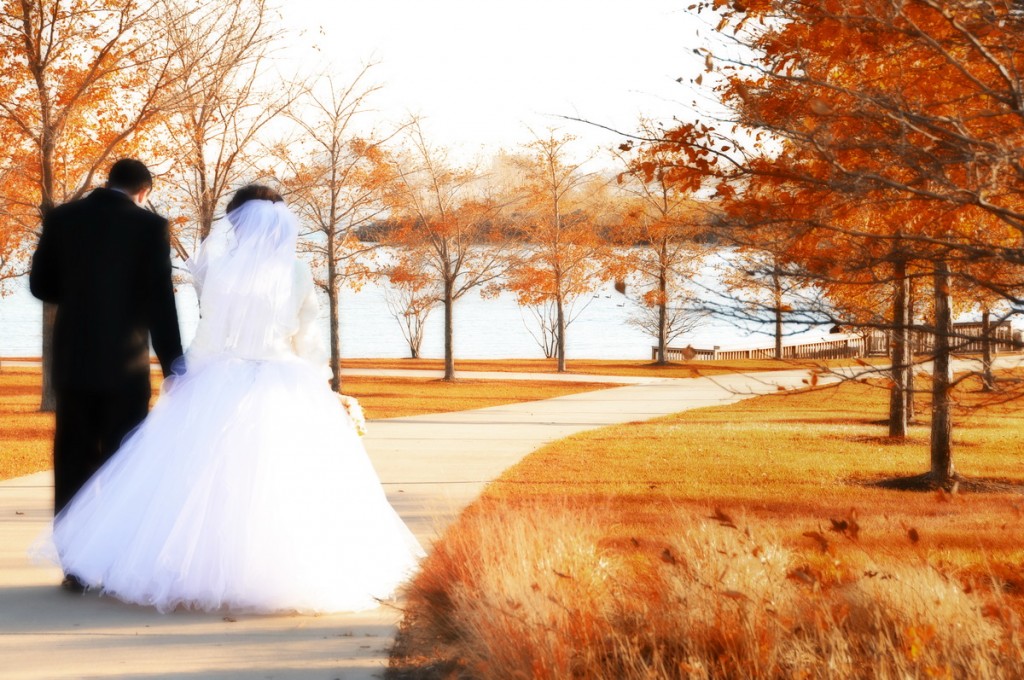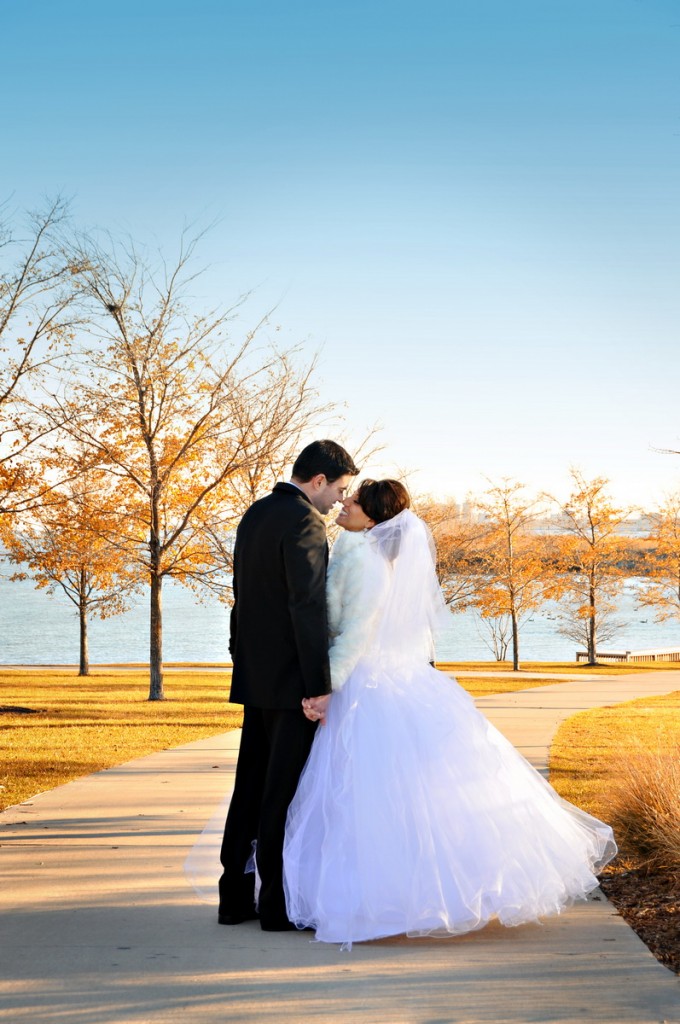 A Wedding Photograph taken on a path located on the other side of the Adler Planetarium
Navy Pier: 600 East Grand Ave, Chicago, IL
Navy Pier makes for not only a really fun photo session for the entire bridal party, it also makes for super fun photos. From photos by the infamous Navy Pier entrance signs to the pier overlooking the water, Navy Pier makes for a wonderful photographic wedding backdrop. One thing to plan for or watch out for is that weekends are a super busy (crazy to put it mildly) at Navy Pier so prepare for traffic and crowds. As long as you have enough time for the shoot and don't mind bystanders in the background of your photos, Navy Pier can be your places to photograph your Chicago wedding. If Navy Pier is too crowded for your tastes, check out Milton Olive Park as an Alternative.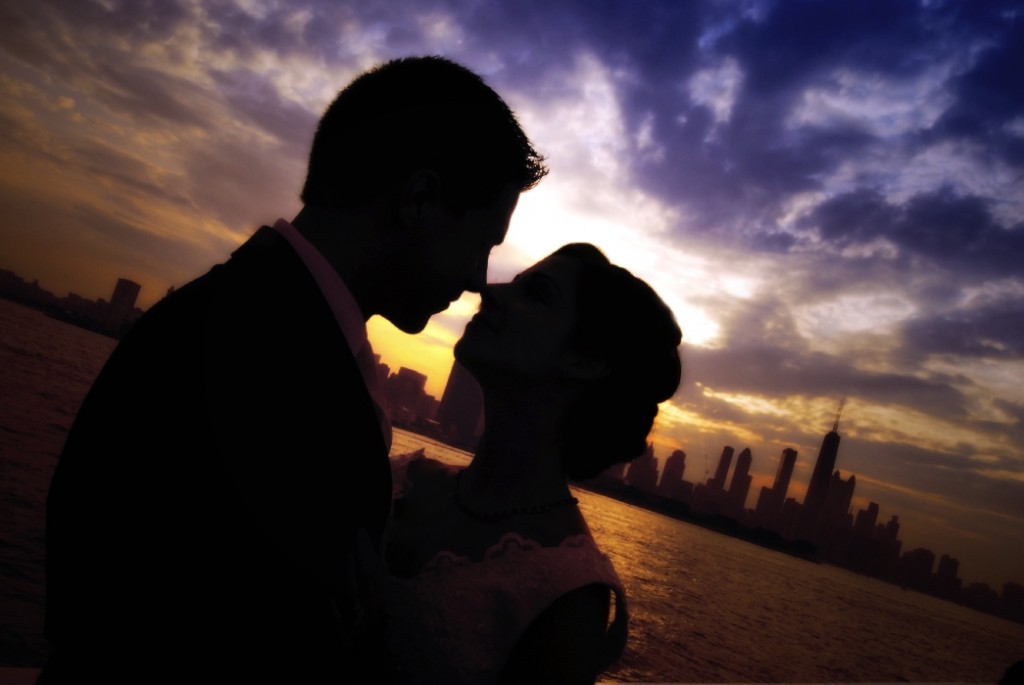 A Wedding Photograph taken from a boat off Navy Pier
Milton Olive Park, Chicago, IL: 500 North Lake Shore Drive
This park is located near Navy Park and juts into Lake Michigan. This assures that your photographer will get beautiful waterfront  wedding photographs. The location is preferred by our photographers because it is a bit less busy than Navy Pier.
Peterson Park in Chicago: 5801 N. Pulaski Rd
This spot is virtually unknown to most but BEAUTIFUL. There is a waterfall there as well as a bridge over a little creek. Check it out and see if you would like our photographer to go there with you.
Portage Park in Chicago: Chicago's West side
If your wedding will be on the West side of Chicago, Portage Park has a nice little garden that is gated off and makes for beautiful photographs.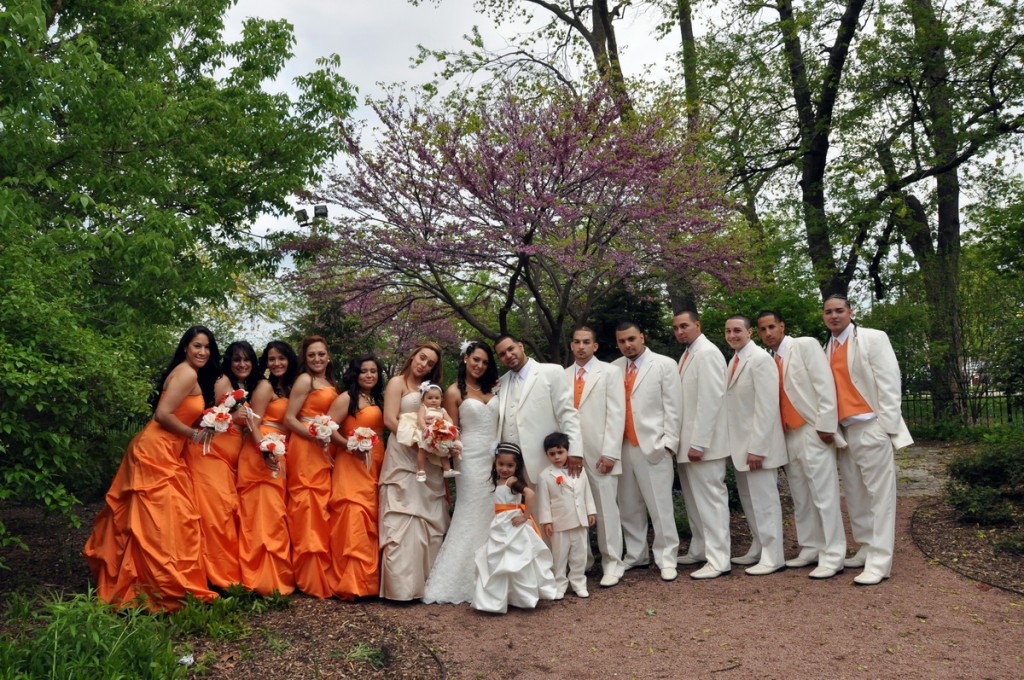 A bridal party in the Portage Park Garden in Chicago
Photographs of Weddings Taken In Chicago
Chicago Event Photographers – Jolie Images
Besides offering Wedding Photography services, we also offer every type of event photography services as well. This includes Bar Mitzvah Photography, Bat Mitzvah Photography, Quinceañera Photography, Cotillion Photography, Birthday Party Photography, Anniversary Photography, Corporate Photography, School Events Photography and much more.
Jolie Images Photography Service Areas
We service the entire Chicago area and its surrounding suburbs. We also often travel to parts of Wisconsin and Indiana. We have shot weddings and other events in almost every Chicago area. *Our photographers can travel to your wedding location as long as it is within 100 miles of Chicago. Just give us a call: 1 -866-922-3961
How to choose the best Chicago Wedding Photographer for your wedding.
If you are wondering about how to choose the best photographer in the Chicago / Illinois area at a price you can afford you are not alone.  Do wedding photography package prices directly correlate to quality? Are expensive photographers better than inexpensive, affordable wedding photographers? For starters, "The best Chicago wedding photographer" can't really be determined because photography is an art and art is an opinion. What is the best to you may not be the best to somebody else. When you choose a photographer whose images you love and who you KNOW is reliable & insured then that is the best wedding photographer for you. Basically, the quality of the photography itself strictly depends on the photographer. It makes no difference if it is an independent photographer or a photographer from a large studio. You are never guaranteed to have a better one at either operation (although it is always safer to go with a studio that promises backup photographers). Always ask to see a sample wedding of the work of the photographer you are hiring. At Jolie Images, we always let you see the work and a recent wedding of the actual photographer that will be shooting your wedding.  Even before you book!
Some Hints:
Never assume that the price you pay for a wedding photography package is in any way related to the quality of the photography. Quite often the most expensive studios are only so expensive because they have to pay so much in advertising to keep up their "high-end" photography business. They also have huge overhead costs as they have to pay for many employees and high rent. Keep in mind; it could very well be that the individual artist photographer will shoot weddings for a lot less because he is more interested in being an artist than in running a business. In other words, expensive does not necessarily mean better!
What we recommend is viewing a COMPLETE recent wedding sample. Many times the pictures on a website are just some of the photographers favorites and do not really represent what you will get as a whole. Remember what you may consider to be "the best wedding photographer" may not be what others think. Since photography is an art, it is also a matter of opinion. What it boils down to is; if you like the work you see and you can verify that the photographer is reliable (this is most important we believe), then go for it!
"If you are looking for wedding photographers in Chicago, choose Jolie Images. You won't be disappointed! Jolie Images exceeded my expectations and I HIGHLY recommend them. AWESOME! Thank you Jolie Images- you rock!"
-Sara W