Here are just a few reviews that we got from our brides and grooms… Want to see more? Come on in. We literally have a whole book full of them! Thank you to our brides and grooms for writing in and letting us know!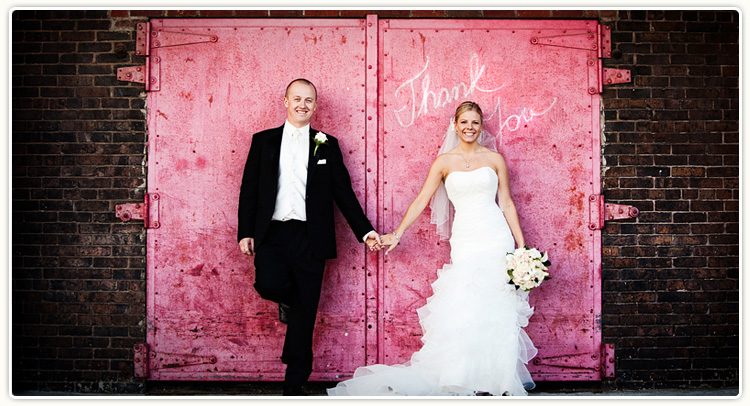 I just wanted to let you know that Erick and I think that our photographer did a FANTASTIC job! We were more than pleased with his work. He was very courteous and got the job done while staying on schedule. What more could a bride ask for? He was great! We are 100% satisfied!! Thanks so much!! – Nina B..

You have truly been wonderful to work with. Thanks again for all of your help. Your company has been absolutely wonderful and it is unbelievable how many compliments we have received on your photographers, proof book, ease of ordering, etc. I will continue to refer you to any bride that I know is looking for a photographer! – Jamie K.

THANK YOU, THANK YOU, THANK YOU! Your service was impeccable and our photographer was amazing. He captured the entire day and the photographs did an excellent job of telling our story. I have received many compliments on the photography and cannot thank you enough for helping preserve the memories of that day. – Nicole C.

I just saw my album layout online. I absolutely LOVE it. It it truly more beautiful than I even could've imagined… – Jenny T.

(We found this posted on a forum) "I feel proud of myself because I found this company (Jolie Images). They took really beautiful photographs of my wedding ( me getting ready, my entire ceremony & my reception) and all for under $600.00! I told them I would refer them to my friends and spread the word. I guess they have really low overhead costs so they pass those savings on to brides & grooms with a tight budget (like me). If you visit their website: www.JolieImages.com you can see my pix up there & see for yourself what you think ???? – Ashley T.

Our photographer was great. He was so professional and so skilled at his job. My guests all loved him and we just saw our proofs and they are fantastic. SO MANY good pictures were taken on our wedding day! The people at Jolie Images are great to work with and I got so much for my money and budget. I will recommend Jolie Images to all my friends who are getting married this year and next year. – Jamie B.

Our wedding Saturday was just PERFECT! I'm completely in love with Shanie (photographer) and I want to adopt all of you to be my new family!!! I can't express enough how warm, professional and simply amazing all of you have been. I hope we can keep in touch — people like you don't come around often enough in life. I will recommend you guys to everyone I can. If ever I can be of service to you and yours —-don't hesitate to call on me! Consider me a friend — you've all touched my heart deeply! – Karla A.

Leslie, thanks for sending the proofs out to us! I'm amazed that I just got back from my honeymoon and my dad already received his pictures from you, that was quick and the photos look great! ! We want you to know that our photographer did a great job capturing our day. We are so pleased with the photos Thanks so much to all of you!– Barb and Mark C.

Greg, We would like to thank you for the great job that you did photographing our wedding on May 31st. Our initial gratuity did not reflect our full appreciation of all your hard work Please accept this thank you from us to you. We love the photos!– Steve O.

Thank you for your time and we really enjoyed having Carlos be our photographer. He did an amazing job and we haven't heard anything but compliments for his job.– Liliana S.

We were so excited to see our beautiful pictures from our wedding! Our photographer did a wonderful job telling our story in still frames, it's like being there all over again! We cannot thank you enough for our memories!!! Our photographer is the greatest!!! – Nikki & J.T. L.

I would like to commend the photographer who took the photos at my son and daughter-in-law's wedding on July 25. He was wonderful. He took great pictures and he was so nice to everyone and got the job needed to be done in a very quick and painless manner. The pictures came out so wonderful and the whole experience just made the day even better. – Jessica L. (mother of the groom)

Yours has been one of the best companies I have ever worked with. Our event was my daughter's Quince Anos (the traditional Hispanic celebration of a 15-year-old girl's birthday). While it was a formal event and we wanted it to be done well, we did not want to be as extravagant as one might be for a wedding. Leslie gave me all the information I needed, was focused on my needs and was tremendously reassuring. Our photographer was a pleasure to work with, charming and – as at least one guest pointed out — was working the whole time. While she asked me what I wanted, and got the shots I specifically asked for, she needed little direction and gave us some great photos. I think that your prices are great, too. Last year after my nephew got married on the East Coast, I went online to order some photos from their photographer and I was floored at the outrageous prices. All this meant was that I ordered fewer photos (actually, just 1 — a 4×6 that cost $24.00!) and was not at all satisfied. Your prices are reasonable and I am enjoying creating an album for my daughter from them. I hope that you are still in business when my kids get married. I would use you again in a heartbeat and will recommend you without reservations. Thank you!– Terri B.

We recently had our wedding and we had a blast. Yakov was our photographer and Randy took the videos. They were wonderful! Just want to thank you so much!– Vanessa A.

Jolie Images is a company that I would highly recommend to anyone that is looking for a photographer. Vanessa was our photographer and she was awesome. She was everywhere at once and super easy to work with. She arrived early and stayed late at the reception. She took over 1000 shots throughout the day! Vanessa is very high energy, got all of the pictures and professional. She would double check shots to make sure that no one was blinking. She was amazing!– Beth Y.

Vanessa,"I am so sorry it has taken me a month to write this but I told myself I can do nothing else today until I send you an e-mail. To our photographer Vanessa: YOU ARE WONDERFUL!!!! The photos are absolutely beautiful, but I expected that because I saw your work on the Jolie Images website and was very impressed then, but we were all blown away by the imaginative photos and the true storybook quality of the day captured by your wonderful eye! And you, yourself, are a terrific person. You're willingness to pitch in and help when you weren't shooting, and the way you engaged people at the wedding, were beyond the call of your photographic duties and more than one person commented on how great you were. Jamie absolutely loved you – she said she felt like you were part of the wedding and knew exactly what she wanted even when she didn't know what she wanted. She said you were more than she dreamed possible in a photographer. Thank you so much for recording the memories of Jamie and Tom's wedding so beautifully. And for being you…I have already recommended you to two people and they will be fools if they don't call! Brightest blessings! – Karli B.

Thanks Leslie. All the photos look excellent and we really enjoyed our photographer. He took charge and got us all organized. Everyone is wondering where we got such a great photographer. I am passing the word on for your business.– Deb M.

Our wedding photographer was wonderful! She was professional but fun–completely unobtrusive, yet she was right there for every important moment and seemed to capture everything! And we are SO happy with the outcome. Our pictures are gorgeous. And the price was really reasonable. Thank you so much Jolie Images! (our photographer was SP–ask for her, she's great)– Toni D.

BORIS WAS SO GREAT!!!!!!! I could not have asked for a better photographer. It was like a family friend was taking pictures. Everything flowed so easily and effortlessly and I could really tell he wanted to ensure the best pictures were taken. I haven't seen anything yet, but I am sure everything will be fabulous. Thanks for giving us one less thing to worry about on our big day. There is truly no way we could ever repay you!!!!– Florence H.

We just wanted to let you know that our photographer was amazing! He was wonderful to work with and we were quite impressed with his professionalism. The photos turned out great! We are so glad that we chose him for our big day. Honestly, he was fabulous –he was the perfect photographer and made everything simple and smooth (and fun!) All of you guys at Jolie Images are so sweet and great to work with!! Thank you so much for everything and please thank Joe for us, he made our day that much better! – Adam & Liara B.

Our photographer was great! I think he struck the right balance between getting the shots and not being intrusive. He worked very hard but was always cheerful and pleasant. Thanks for everything!– Nancy W.

Thank you so much, our photographers were WONDERFUL!!!! They received very rave reviews from all of my guests. My husband and I couldn't have been happier with them and our photos. Thanks again, and I'll talk with you soon!!!– Maria B.

Our wedding pictures came out amazing! Working with this vendor was one of the best experiences of the whole wedding! Thank you Jolie Images!!! :)– Amy B.

Thank You very much for sending us Claudia she did a superb job and made all of our family and friends feel comfortable. She acted courteous and professional. You sure didnt let us down, Thank you and We will keep in touch.– Eric C.

Just wanted to say thanks for helping us out with the photography, I don't know what I typed in the Google box or how I found you guys, but I am ecstatic that I did!!!– Ashley S.