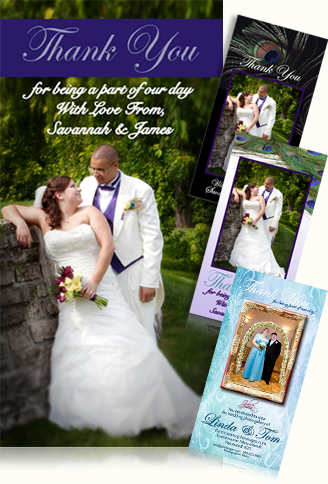 Photo Wedding Thank You Cards are a great way for you to send a personal and thoughtful thank you message to your wedding guests while saving time. Enjoy your honeymoon! Instead of filling out thousands of generic wedding thank you cards, let us create you a beautiful wedding thank you card. Choose your favorite wedding photo and one of our talented artists will create you beautiful and custom photo thank you cards that you can mail to your guests complete with your message. Photo thank you cards are not only a great way to send thanks to your wedding guests, but also a great keepsake for your guests to forever cherish.
⚊ Several designs are custom created for you to choose from
⚊ Card is 4×8 inches on professional photo paper and includes envelope
Cost:$25 custom artwork/design fee
Quantity
Price
Price per card
Contact Us For More Information or to order your custom save the date photo cards.
**customer must provide copyright release form if using photographs taken by another photography studio or professional photographer.